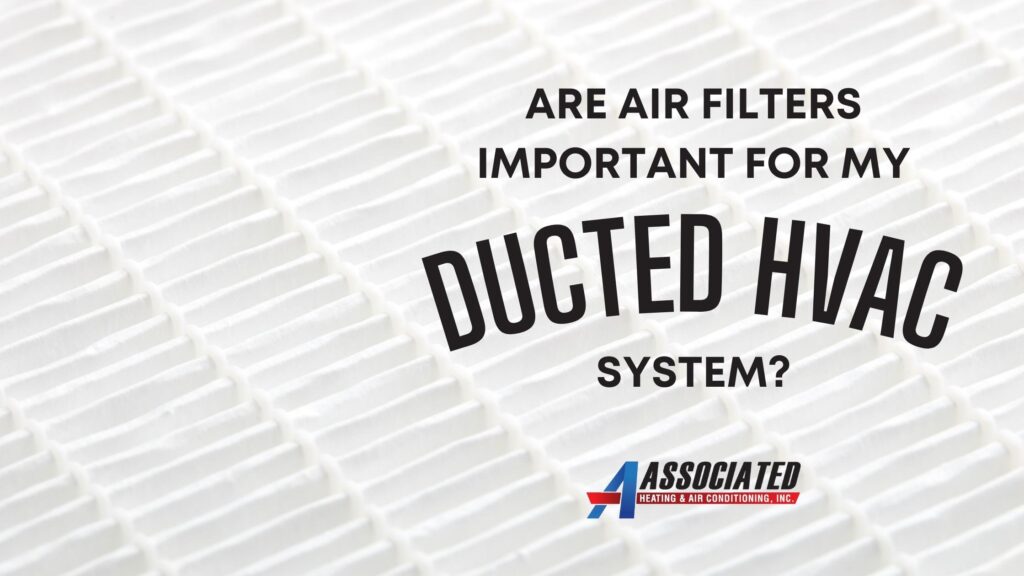 When it comes to a healthy ducted HVAC system, your air filter is absolutely essential. Not only do they improve the lifespan of your system, there are other benefits, too. Contrary to what many believe, the primary function of the filter is not to purify the air. An air filter will act as a barrier that will capture allergens, dust, and tiny particles from getting into the air you breathe inside your home. Keep in mind, the things you don't want in your indoor air will build up on these lightweight filters over time.
Whether you have a standard air filter or higher grade one, this will determine how often it needs to be changed. The most common issue homeowners run into is not changing their filter often enough. This is why it's vital that you create a routine to change out your filter, which will minimize the need for repairs. By understanding why air filters are important for your ducted HVAC system, you can improve your comfort, air quality, and health.
HOW OFTEN SHOULD YOU CHANGE YOUR AIR FILTER?
Ultimately, this depends on the type of air filter you have in your ducted HVAC system. If you have allergies and/or pets, you may find that you need to change your filter more often. At Associated Heating & Air Conditioning, we offer a variety of filter options to choose from. For this post, we will focus on the three types of filters we keep in stock: Poly, Pleated, and MERV 16. Please call us at (541) 683-2590 to ensure we have the size you need or to learn about other air filter options we can get for you.
Poly Filters
• 1 to 2-inch poly air filters should be changed every 30 to 60 days.
Pleated Filters
• 4 to 5-inch pleated air filters should be changed every 4-6 months.
Lennox MERV 16
• 5-inch MERV 16 air filters should be changed every 9-12 months.
Fortunately, most air filters are low-cost and typically easy to replace on your own. A general rule of thumb to follow: the filters that need to be changed more often, cost less. When choosing a filter for your ducted system, identify the correct size and type of filter you'll need. While we carry the listed filters above in stock, we can order other filters, if needed.
SIGNS THAT YOUR FILTER MAY NEED TO BE CHANGED
DISRUPTED AIR FLOW: By not changing air filters often enough, you risk having dust and debris accumulating in the blower fans and air ducts. This reduces the amount of space available for air to pass through. The overall performance of your HVAC system will decrease and over time, the unit may fail altogether.
HIGHER BILLS: A dirty air filter will cause your system to work harder to simply maintain your desired temperature. This can lead to higher energy bills because your system will draw more power.
LACK OF COOLING: Dust, dirt, and fine particles on the cooling coils can affect the performance of your HVAC system. Routine maintenance on your system can prevent this. However, not taking care of the issues will eventually cause major issues and costly repairs.
AC DAMAGE: Contaminants, like dust and debris, can strain and shorten the operating life of an HVAC system. Changing your air filter regularly will increase it's life.
MOISTURE AND MOLD: Even high-quality HEPA filters need to be routinely replaced. If neglected, moisture can build up in your ducting, especially in hot and humid weather. When there is moisture, mold thrives. If ducts become too moist, an infestation of mold is likely. Mold spreads quickly and can move throughout ducting, along with particles and allergens. This can make you very sick.
If you've changed your air filter and are still seeing some warning signs, it might be time to schedule a maintenance. As the premier HVAC company in Eugene, we pride ourselves in providing indoor comfort and healthy indoor air quality to our customers. Contact us today to get something scheduled!